SrI:  SrImathE SatakOpAya nama:  SrImathE rAmAnujAya nama:  SrImath varavaramunayE nama:
periya thirumozhi >> First Centum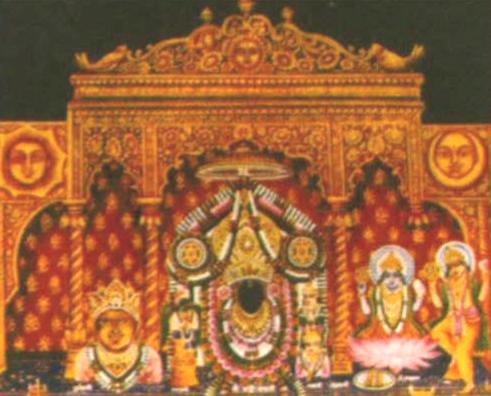 There are two divine abodes here – SrI badhari and badharIkASramam; among those, bhagavAn's presence here is similar to that of a nursing mother who consumes medicine to cure the disease of her toddler. emperumAn, as nara rishi, being the well-wisher, performs thapasya (penance) here to reform the chEthanas (bound souls), remains without any shortcoming in him, where our lack of approaching him is the only fault; hence let us go and surrender unto him – says thirumangai AzhwAr to his divine heart. Are there any pAsurams where he instructs his divine heart? Yes, previously he said "vadhari vaNangudhum" (let us worship SrI badhari) in every pAsuram of previous decad and also said in third pAsuram of previous decad "aRidhiyAgil nenjam" (Oh heart! If you are knowledgeable) and in this decad too in fourth pAsuram "thuNivini unakkuch cholluvan manamE" (Oh heart! I am giving you a firm advice) – in this manner, throughout these pAsurams, there are instructions to his divine heart. This is the abode of nArAyaNa (rishi) who bestowed the thirumanthram which he meditated upon and recited previously after highlighting that he received the same.
adiyen sarathy ramanuja dasan
archived in http://divyaprabandham.koyil.org
pramEyam (goal) – http://koyil.org
pramANam (scriptures) – http://granthams.koyil.org
pramAthA (preceptors) – http://acharyas.koyil.org
SrIvaishNava education/kids portal – http://pillai.koyil.org