SrI:  SrImathE SatakOpAya nama:  SrImathE rAmAnujAya nama:  SrImath varavaramunayE nama:
periya thirumozhi >> First Centum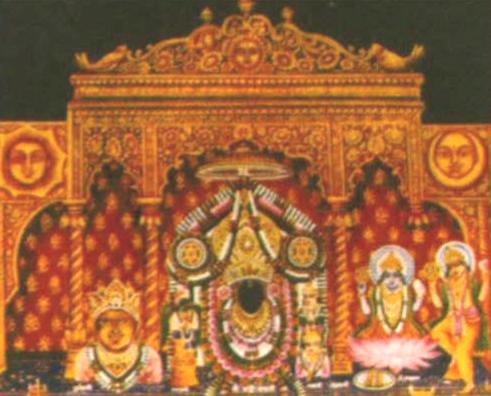 thirumangai AzhwAr instructed his divine heart saying "Approach thiruppiridhi"; it did not have the same urge as AzhwAr [fearing the distance and the difficult terrain]; AzhwAr then said "Oh fool! Can't you see the sorrow in this samsAram? Quickly try to reach badharikASramam since it is a little bit closer"; previously AzhwAr spoke about thirumanthram; subsequently he spoke about the meaning of the manthram; now he is saying "Let us reach the abode where the manthra dhrashtA (the one who sees the manthram) is residing". For those who recite thirumanthram, just as the principle which is revealed in the manthram, rishi (sage who reveals the manthram), chandhas (meter) and dhEvathA (the deity of the manthram), bIja (seed letters), Sakthi (strength) etc, SOshaNa (how it nurtures), dhAhanam (how it destroys) etc – also need to be meditated upon. Why all of those are required? As said in thiruppallANdu 12 "namO nArAyaNAya enRu – paramAthmanaich chUzhndhirundhEththuvar" (reciting ashtAksharam, nithyasUris will surround and glorify bhagavAn), since nithyasUris are the ones who meditate upon this manthram, their pastime is this only; such manthram is being attempted to be meditated upon by jIvAthmA who is bound by matter which has three qualities (sathvam, rajas and thamas); hence, he has to consider himself to be having a form similar to them, and hence SOshaNa and dhAhana are required. Now, the rishi, chandhas and dhEvathA are meditated upon due to overwhelming attachment towards the manthram; bIja and Sakthi are meditated upon for his faith in the manthram to develop, as it is the manthram which grants mOksham.
Previously, AzhwAr said "piridhi senRadai nenjE" (Go and reach thiruppiridhi); his heart thought "let me do it later"; AzhwAr said "Oh fool! For someone who is suffering in samsAra, can he say 'I will do it later'? Only for those who have divine body, such attitude of 'let me do it later' can be present"; AzhwAr then instructed "You cannot remain lethargic that it can be done later" and highlighted the impermanent nature of prakruthi (matter), lowliness of worldly pleasures, the greatness of bhagavAn who is to be pursued, and mercifully tells his divine heart "Since this is the situation, even if you were to break your hand or feet while going to badharikASramam, considering that it is a little bit closer than thiruppiridhi, try to reach it".
adiyen sarathy ramanuja dasan
archived in http://divyaprabandham.koyil.org
pramEyam (goal) – http://koyil.org
pramANam (scriptures) – http://granthams.koyil.org
pramAthA (preceptors) – http://acharyas.koyil.org
SrIvaishNava education/kids portal – http://pillai.koyil.org